Thanksgiving Package at Bar Enza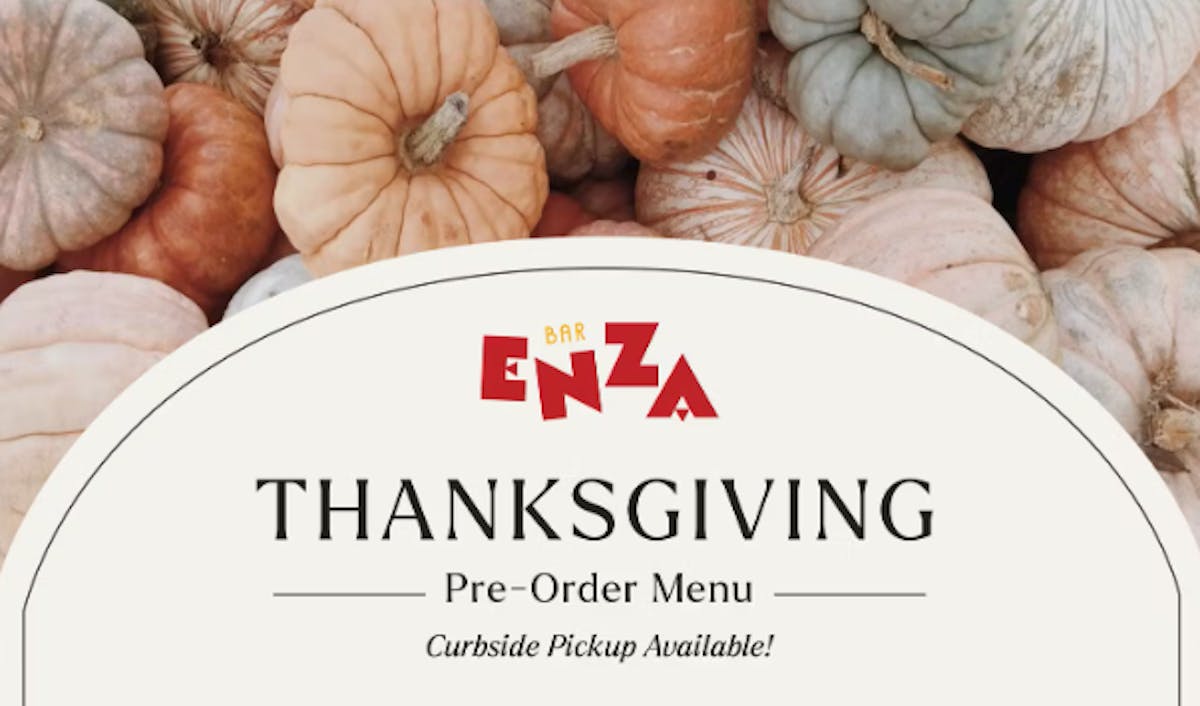 Are you tired of cooking your Thanksgiving dinner? Looking to impress your family or friends? Bar Enza has curated an incredible Thanksgiving To-Go Dinner. Located in the Charles Hotel on 1 Bennett Street of Cambridge, schedule your pickup order for Wednesday, November 22nd, between 11 am and 5 pm. Want to learn what we have in store? Continue reading to discover our menu!
Thanksgiving Dinner to Delight
Our dinners serve 8-10 people. The first option is the Boneless Breast. For $195, you'll go home with this Porchetta Style breast, rolled and seasoned with Garlic Herbs & Prosciutto, drizzled in Gravy, incorporated with Chesnut & Porcini Stuffing, and plated with Crnaberry Sauce.
The second option is a Whole Turkey. For $225, take home a Spatchcock-style turkey topped with Gravy, filled with Chestnut & Porcini Stuffing, and plated with Cranberry Sauce.
Sides for Accompaniment
Our sides serve 3-4 people. Choose from the following: Roasted Mushrooms, Roasted Delicata Squash, Roasted Brussels Sprouts, Grilled Broccolini, or Buttery Mashed Potatoes. Each of these sides is $18.
Add-Ons for the Holiday
Were you looking for a little something extra? Don't skip out on the extra quart of Stuffing for $12, an extra pint of Gravy or Cranberry Sauce, each costing $8. 6 Stuffed Clams for $32. Baked Rigatoni or Meatballs, each costing $24. An Herb Focaccia or Marinated Roasted Peppers, each costing $12. Finally, add the Enza Salad, curated of Tri-Colored Lettuce, Marinated Vegetables, Sharp Cheese, and a Chianti Vinaigrette for $16.
Don't Forget Docle
Our desserts feed 8-10 people and should not be skipped out on! Enjoy a Pear Crostata, Olive Oil Cake, Cranberry Tart, or Apple Crostata. Each of these desserts is $35 and is selling out fast!
Contact Bar Enza for More Information About Thanksgiving Dinner
If you're ready to feast on a delicious dining experience, fill out the order form to secure your Thanksgiving dinner. The last day you can order this Thanksgiving dinner is November 19th. Bar Enza is dedicated to offering exceptional offerings to those you celebrate this holiday with. For more information, please get in touch with us by calling 617-661-5050. We look forward to seeing you on Wednesday, November 22nd, between 11 am and 5 pm to pick up your dinner!