Pairing Wines with Italian Dishes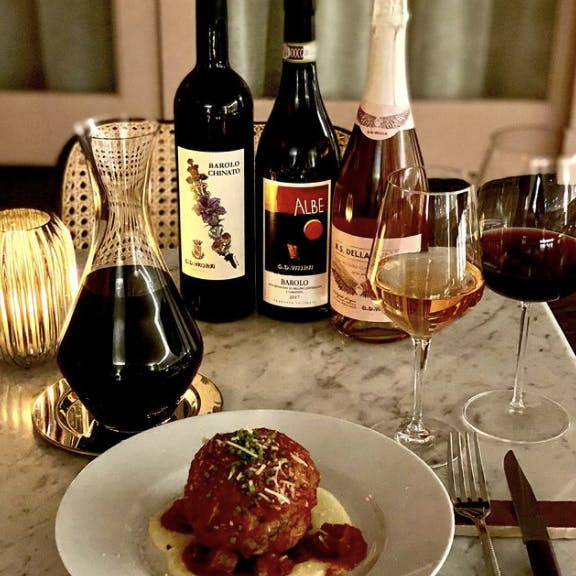 Italian cuisine and wine go together so well it's almost a shame to have one without the other. The key to getting the maximum enjoyment out of your Italian meal is knowing how to properly choose a wine pairing to go with the dish. Let's go over some of the most popular types of wines that pair well with Italian dishes.
Chardonnay
Chardonnay is a fan-favorite wine for people who enjoy wine but aren't wine enthusiasts with an expansive palate. Chardonnay has a buttery taste, with undertones of vanilla and spice. This wine is easy to enjoy because it has such a widely loved flavor.
Pair chardonnay with a creamy pasta like Alfredo and any light or white meats. Chicken and clams are among the best proteins to pair with chardonnay.
Pinot Gris
Pinot Gris is a dry, fruity wine that has notes of pear and apple. This wine is a bit lighter and more fun than other wine options. Pinot Gris pairs perfectly with a creamy seafood dish that has crab, lobster, or clams. You can even pair a Pinot Gris with a light and buttery pasta dish for a powerful flavor combination.
Pinot Grigio
Pinot grigio is a white wine that features a simple flavor palate that is robust enough to pair with a pesto-based dish. The wine will pull out the flavors in the pesto without overwhelming your taste buds. This wine also goes great with various breads that can be served along with your pesto dish!
Chianti
Chianti is a deep red wine with a dry mouthfeel. This wine can really be paired with any authentic Italian dish, but it tastes best with cheese or a light salad. Chianti is a popular choice for charcuterie boards as a starter. Anytime you're in doubt of what wine to order with your Italian meal, chianti is a safe choice! Chianti was the go-to wine for all Italian cuisine lovers for quite some time, so it's only fair that it remains one of the most popular wine pairings.
Zinfandel
Italian dishes that have a red sauce require a red wine that's bold and tangy. Zinfandel fits the bill perfectly! Zesty Italian meatballs will come alive when they're enjoyed with a glass of zinfandel. There are a wide variety of zinfandel makers to choose from, so take the time to ask your server what they have available and what's recommended.
Book a Reservation at Bar Enza in Boston
Visit Bar Enza today for an authentic Italian experience in Boston! Our expansive wine selection has something to pair with every appetizer, entrée, and dessert on the menu. Follow this guide to choose a pairing for yourself or ask your server about wine recommendations when you order!